Are you dealing with a broken dishwasher? Get fast help with repairs by calling 772-321-6708.
Dishwasher problems often take homeowners in Florida by surprise. You may discover the issue only after the machine floods your kitchen. Fortunately, you can get dishwasher repairs quickly by contacting our team at Service Fanatics. We can schedule your repair appointment today.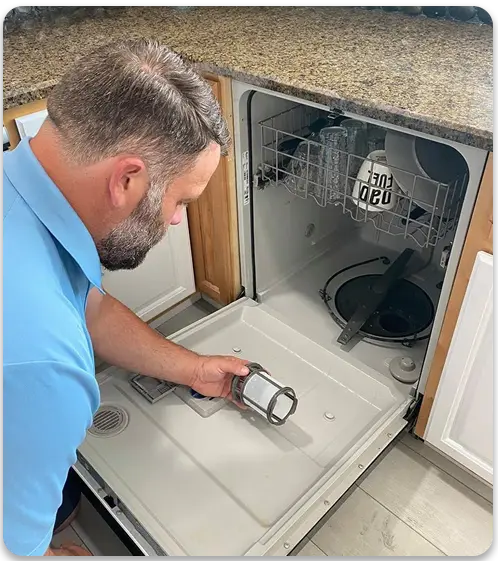 DISHWASHER REPAIR NEAR ME
Have you done a search for "dishwasher repair near me?" In many situations, property owners want to work with a company that handles machines made by specific brands. Our technicians have the training and experience to perform:
We can also help if you have a dishwasher made by companies like Admiral, Frigidaire, GE, Kenmore, Maytag, and more. Feel free to reach out to us directly to ensure that we have the training to carry out repairs on the make and model you own.
SIGNS TO CALL FOR DISHWASHER REPAIR
Sometimes, you know immediately you need to call for appliance repair.
For example, most homeowners call for professional help if they walk into the kitchen to find the floor flooded from the dishwasher. However, repair technicians can also step in to help if your dishwasher:
You can contact us if your dishwasher won't drain after a cycle or if any of the buttons on the dishwasher refuse to work. Issues with the controls may indicate an electrical problem within the machine, which we can handle on your behalf.
WE ASSESS YOUR DISHWASHER WITH AN INSPECTION
Our team at Service Fanatics can move quickly to help with a dishwasher repair in Florida. We begin by thoroughly assessing the dishwasher to look for problems. It's also possible to provide us with information about the issues that concern you.
After we determine the cause of your dishwasher breakdown, crews can begin repairs right away. Technicians visit your property with a stocked repair truck that often contains the tools and equipment they require to clear a drain line or replace a door gasket.
In many cases, we can complete dishwasher repairs in a day, allowing you to get things back to normal.
CONSIDER DISHWASHER MAINTENANCE
Dishwasher repair crews can step in to help if you have a dishwasher that leaks, overflows, or refuses to drain. In some situations, you can prevent these problems by scheduling maintenance services for your appliances.
Maintenance appointments allow technicians to look over your machines. Crews can ensure all valves and systems are in good working order during the assessment. They can also replace any parts that have worn out due to time and usage.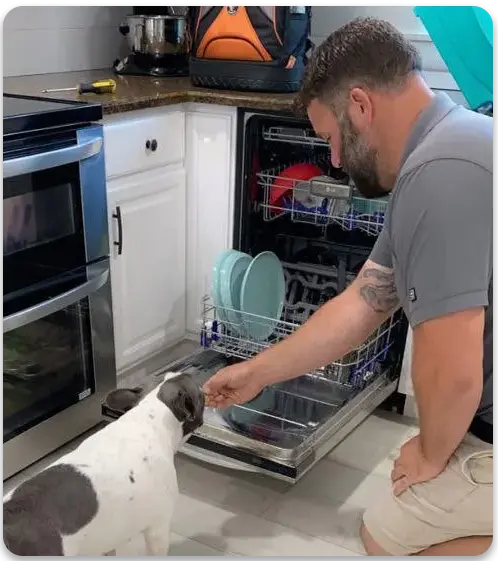 A maintenance appointment can help you save money in the long run by preventing a costly dishwasher breakdown. You may also consider upgrading your current dishwasher if it's given you problems multiple times.
As dishwashers age, their seals and motors can wear out. Eventually, they may stop cleaning your dishes properly. You could upgrade your system as a home improvement.
Our team can help you review new dishwasher models. Many newer washers come with energy-efficient features and use less water than older models, which can lower your monthly expenses.
REACH OUT TO US FOR DISHWASHER REPAIR
Take immediate action if your dishwasher fails. Our team at Service Fanatics can schedule an appointment for you quickly. Our technicians have the experience and training to take care of dishwasher repair in our area. You can speak to us about the problems you face when you call 772-321-6708.