The Expert in Dryer Repair in Vero Beach, FL, and Nearby Areas
A malfunctioning dryer can prevent you from doing your laundry, leading to a back-up on chores. After a dryer breakdown, you may have to go to the laundromat, adding extra work to your busy day. Our team at Service Fanatics can help you by offering fast dryer repair services.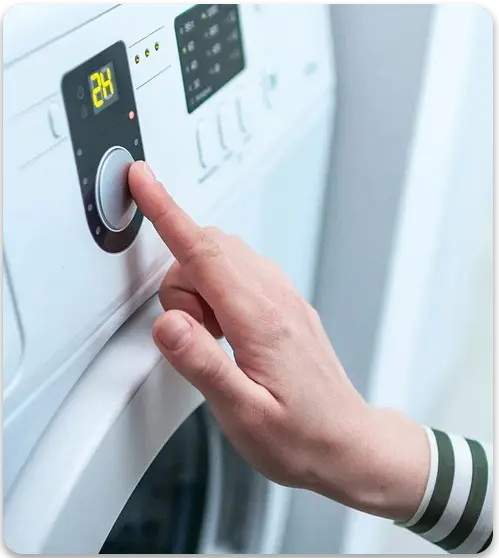 When to Call for "Dryer Repair Near Me"
Have you asked yourself, "Do I need to find dryer repair near me?" In many cases, you know when you need dryer repair because the machine stops working completely. Service Fanatics can help, whether your dryer has stopped or it runs but demonstrates worrying symptoms.
For example, you can contact members of our team if your dryer:
Our appliance repair company can step in to fix your dryer problems. We also know what to do if the machine dries your clothes but leaves them with a musty or moldy odor. You can reach out to us now to learn more about your dryer repair options.
FIRE HAZARDS AND DRYER REPAIR IN FLORIDA
Here at Service Fanatics, we understand the stress associated with any appliance breakdown. However, we recognize that dryer repair often comes with additional concerns. Unlike many other appliances, the manufacturer designed your dryer to get hot to dry your clothes.
A broken dryer can represent a fire hazard. For this reason, the experts recommend that you fix a dryer as quickly as possible. You can protect your family by stopping the dryer any time you smell smoke or notice it growing unusually warm. Take additional steps to address the issue by reaching out to a dryer repair company right away.
What to expect from "Dryer Repair Service Near Me"
Are you curious about what happens when you contact a dryer repair service? Our team at Service Fanatics starts the process by scheduling your appointment. Feel free to make an appointment either online or by calling us.
After you make your appointment, you may not want to run the dryer until crews arrive. We provide you with a call before technicians reach your property, so you know when to expect the repair crew.
Once technicians get to your house, they can assess the causes of your dryer concerns. Our team can perform an inspection to see if you have an issue with the valve coils, door switch, drum, or electrical system. We bring a fully-stocked work van to in-home visits, allowing us to resolve the problem quickly.
If you're wondering, "can I get dryer repair service near me?" get the assistance you want by contacting Service Fanatics.
BENEFITS OF PROFESSIONAL DRYER APPLIANCE REPAIR
Being diligent about having your dryer maintained and repaired is what helps this often-used appliance stay on the job for many years. Plus, since our technicians are local, you won't have long to wait when your dryer needs fixed. Professional dryer appliance repair also allows other components, parts, and connections to be inspected to determine if additional attention is needed, which ultimately saves you time and money. We offer this and other services to our clients in:
WHY HIRE OUR PROFESSIONAL DRYER REPAIR TECHNICIANS
Dryer repair in Vero Beach, FL, and the surrounding areas isn't a DIY job, especially with anything involving internal parts. For one thing, it's not safe to open up a dryer and make repairs unless you know for sure what you're doing. Also, DIY dryer repairs could invalidate any existing warranties from the manufacturer. Err on the side of caution and give our local repair pros a call.
GET HELP WITH DRYER FAN REPAIRS
Some dryers have an additional dryer fan. This fan attaches to the dryer near the vent that removes hot air. The fan helps to propel the air outside of your house with additional force, which can help lower your air conditioning expenses.
The dryer fan also assists with the removal of lint, which can help reduce fire hazards in your home. We can repair these fans for you, allowing your dryer to function at increased efficiency courtesy of a dryer repair technician.
Contact Our Team Today
Feel good about making Service Fanatics your top choice for washer and dryer repair. Our aim with each service call, regardless of what the job involves, is to leave you 100% satisfied with our work. Contact a technician from our team today to set up an appointment.