THE NUMBER ONE TEAM FOR REFRIGERATOR REPAIR IN VERO BEACH, FL, AND NEARBY AREAS
Did your refrigerator stop working? Contact us at 772-321-6708 to set up a repair appointment!
You rely on your refrigerator to keep your food from spoiling in the Florida heat. Unfortunately, sometimes these machines break down. In this situation, get fast help with refrigerator repair from Service Fanatics.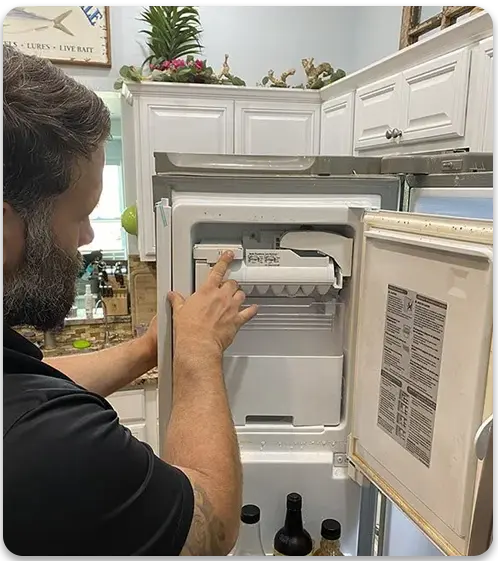 FINDING "REFRIGERATOR REPAIR NEAR ME"
After your fridge breaks down, it's normal to ask, "Can I get refrigerator repair near me?" Our team operates locally, allowing us to quickly help homeowners who need help with refrigerators made by:
The above list only reflects examples of the brands our appliance repair technicians can handle. Our licensed and bonded crews put their experience to work when you contact us for refrigerator repair. All teams aim to repair your refrigerator quickly so you can get things back to normal.
ASSESS WHY YOU NEED FRIDGE REPAIR
Refrigerator breakdowns can have a number of different causes. We begin the fridge repair process by inspecting the problem that caused your issue.
We work to determine the specific reason for the breakdown by checking your:
We can also check your temperature controls and evaporators. Our technicians can even check your defrost timer. Once we identify the problem, we can develop a plan to address the issue. We may need to replace broken parts or adjust an improper fitting
Our team keeps you up-to-date about the repair process, so you know what's happening.
GET PERSONALIZED FRIDGE REPAIR NEAR YOU
Have you asked, "Can I get fridge repair near me?" In many cases, the answer to this question is yes. Our team at Service Fanatics has the experience and training to take care of repairs for many types of refrigerators, including:
We utilize our experience to get the cold air blowing inside of your refrigerator again. Allow us to check the water supply, the power, and the ventilation system to determine the causes of your breakdown.
Our team members can arrive at your property ready to handle your specific issues. We bring a repair vehicle stocked with the tools and replacement parts we may need to take care of the repairs. Our crews can often complete refrigerator repairs in a single day!
AVOID REFRIGERATOR BREAKDOWNS WITH MAINTENANCE
Taking steps to prolong the lifespan of your refrigerator by regularly performing maintenance is always a good idea. Refrigerator repair can handle unexpected problems, but you can reduce issues by following the advice below.
CALL US FOR REFRIGERATOR REPAIR IN FLORIDA
Do you want assistance with refrigerator repair in Florida? If so, contact our team at Service Fanatics. We can schedule an appointment for you right away.