THE TOP TEAM FOR DRYER VENT CLEANING IN VERO BEACH, FL, AND NEARBY AREAS
Our highly trained team at Service Fanatics provides dryer vent cleaning service. We understand that dirty dryer vents represent a fire hazard to homeowners in Florida. Feel free to contact us today to schedule an appointment to have your vents cleaned.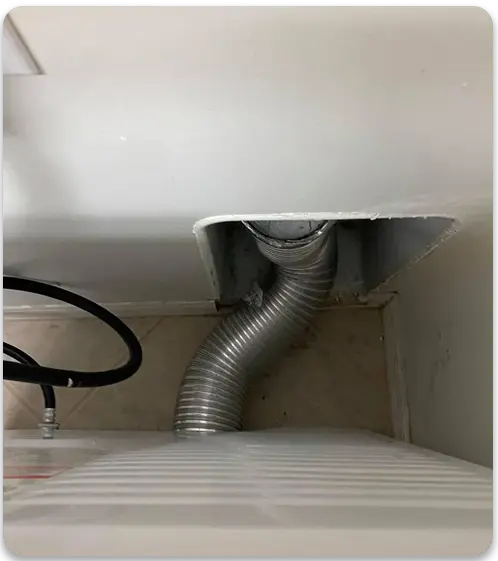 INDICATIONS YOU NEED DRYER DUCT CLEANING
Are you considering scheduling an appointment for dryer duct cleaning? It can prove challenging to tell if you have clogged dryer vents just from looking at the outside of your machine. However, there are warning signs you can look for that indicate it's time for a cleaning. You may contact us if you notice any of the following issues with your dryer.
HOW OFTEN SHOULD YOU GET YOUR DRYER VENT CLEANED?
It's best to schedule regular maintenance for your dryer vents to prevent the build-up of lint and dirt. You may want to contact our dryer vent cleaning company every:
Taking care of your dryer vent can help prevent a lint clog, allowing the machine to continue functioning efficiently.
STEPS IN A DRYER VENT CLEANING SERVICE
Are you curious about what happens during the dryer vent cleaning service? Technicians generally look over your dryer first. They can detach the unit from the dryer duct that feeds into the wall. Crews remove all lint, sometimes using a professional-grade vacuum cleaner to get rid of build-up.
In some situations, crews use warm soapy water to clean the inside of the vents, giving them a smooth surface that makes it harder for the dust to gather. Technicians can clear out any blockages in your outside vent, as well, including bird nests.
After the technicians complete the cleaning, they put everything back as they found it. You can resume using your dryer almost immediately after a dryer vent cleaning appointment unless technicians tell you otherwise. Your dryer may complete loads more quickly after a cleaning, which can help you cut down on your energy expenses.
IMPORTANCE OF DRYER VENT CLEANING SERVICES
It's a good idea to contact us at least once a year for dryer vent cleaning in Vero Beach, FL, and other areas we serve. Safety is one reason we say this. According to the U.S. Fire Administration, 80 percent of home fires involving clothes dryers are due to clogged vents. Regular dryer vent cleaning also contributes to:
Choosing Service Fanatics for dryer vent maintenance means benefiting from our 15-plus years of experience. What's more, we strive to build lasting relationships with our customers with top-notch local service that includes:
Contact us today to schedule a dryer duct cleaning or any other related service you need. Call us or fill out the form to get started. We serve:
SCHEDULE A DRYER VENT CLEANING TODAY
From dryer repair and vent cleaning to issues with other home appliances, Service Fanatics is the company to call on for all your residential appliance needs. Our team comes fully prepared for every service call with the skills and equipment needed to get the job done right.